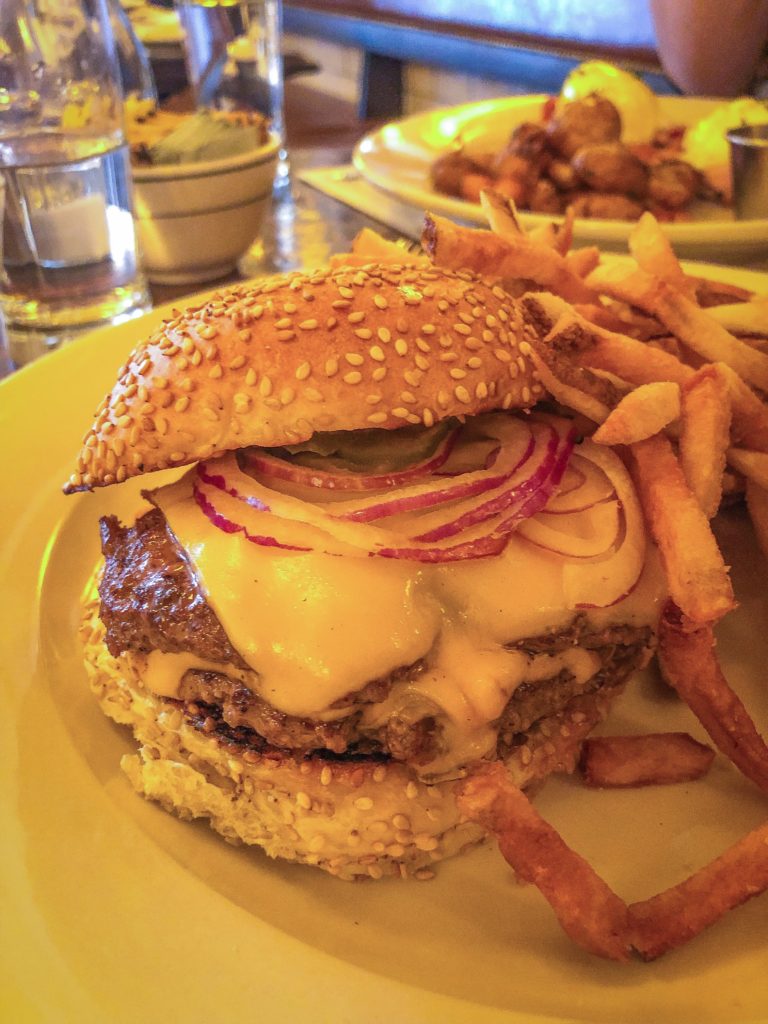 Some food trends bore me to tears.
Others, I'm all here for.
Speaking of which, I'm 100% here for the simple, fast food take on gourmet burgers that are popping up everywhere.
Gone (hopefully) are the days of the boring enormous steakhouse burger.
There was a forgettable bun, a 10 inch tall flavorless patty of unnecessarily artisan meats, a thick slimy slice of tomato and a scant amount of pretentious cheese.
Basically, too many toppings that rendered actually eating this bland monstrosity with your hands impossible.
Perhaps this all started with the West Village's Happy Endings bar with their faux In and Out Cheeseburger (which I did not care for)?
Then The Spaniard came out with a simple, cheesy cheeseburger of my very wettest dreams.
And then Chicago's famed Au Cheval came to town with their legendary cheeseburger and it was all over.
Now it was time for the copycats.
Who are more than welcomed!
Keith McNally's restaurants are all the same.
Gorgeous French Bistros.
All with, I think, the exact same menu. And the same moody antique yellow vibes and vintage Paris décor.
Boogie but still a touch casual. Always sporting a quite dense tourist population (Balthazar, Minetta Tavern).
Pastis (of Sex and the City fame) closed right before I moved to NYC, back in 2014.
I had always heard rumblings of it's eventual return. Like an aging actress who had spent the past few years doing Hallmark movies but had a big indie film ready to explode upon the festival circuit.
And just this summer, that indie film came out.
And it was poignant.
I'm only going to comment on the burger. Because it was truly delicious.
And totally riding the simple, just cheese/meat/special sauce fast food train that has firmly arrived in New York City.
It was perfection (as were the fries).
May this train never leave.
52 Gansevoort St
New York, NY 10014 b/t Washington St & Greenwich St
West Village