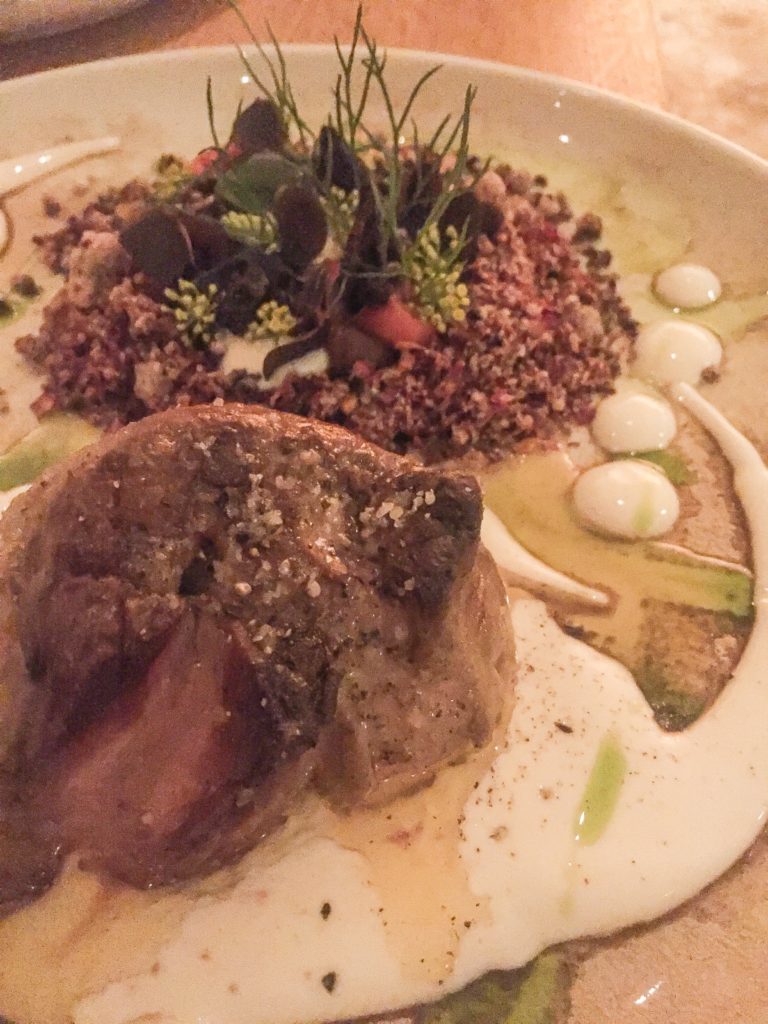 Let's face it, many of the dishes at Nur are not very photogenic. They are NOT ready for their close-up, Mister Demille!
In fact, one of the entrees we ordered, "Turkish Delight on the Hudson", looked more like the eerie landscape of some alien planet, replete with killer plants and a lava-spewing volcano (see pic above)!
That being said (typed), the food was inventive and delicious! I want to go back and order it all again!
The breads are where you get the most for your money (because you're obviously here on a budget) and the loaf of honey garlic challah is sizable and can be eaten with any number of the dishes you order.
The Eggplant Carpaccio was nice but definitely overpriced (there I go again, talking about money. So crude.)
If you do want a lot of bang for your buck, the Horias are definitely worth an order. Two nice sized pitas crammed with delectable lamb kebab.
Instead of ordering any of their more traditional but tasty looking meat entrees, we chose the Turkish Delight on the Hudson.
This is certainly one of the most unusual but delightful dishes I've ever had in my entire life. Per my earlier comment about it looking like some alien landscape, please note that the dirt was actually coffee and the volcano was foie gras! It's pricey at $39 but since you're not here for the $1 menu, go ahead and order it.
Since I obviously have no class and cannot stop talking about money, let's just say an evening at Nur will set you back a pretty penny. Choose it for a special date night, an anniversary or maybe your last meal on earth after your doctor just handed you some terrible news.
34 E 20th St
New York, NY 10003
b/t Broadway & S Park Ave
Flatiron
(212) 505-3420
nurnyc.com