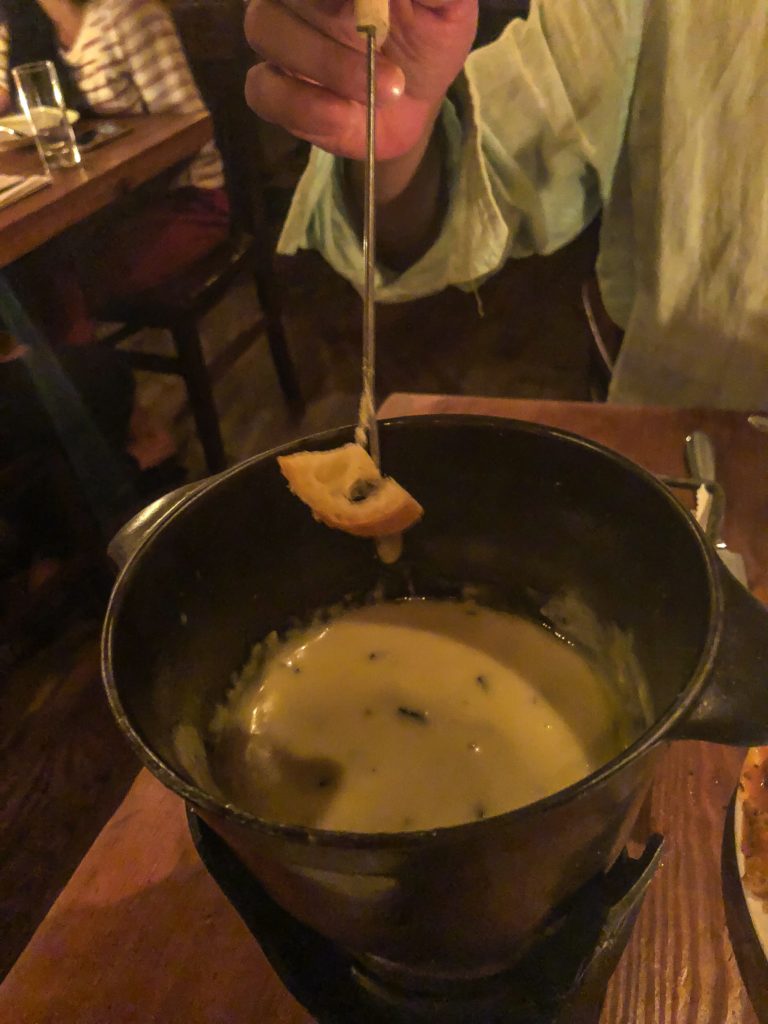 Ladies and Gentlemen, I present to you the world's worst picture of fondue! (Trust me, there's more awful pics to come!)
It looks like a sad lemon slice is being fished out of a grimy bucket of clam chowder.
In other words, delicious!
Kashkaval Garden is a bizarre but really fun Bulgarian fondue restaurant that you just have to visit.
Have you ever had Bulgarian fondue before? Liar, you have not.
But you will, once you come here.
The vibe is dark and bustling. Perfect if you've got some fugly hair going on or want to hide a hideous pimple. Or just your entire awful face.
The Kale salad seemed obligatory and not very interesting, so just avoid all that noise.
Save room in your fat belly for skewers and the lamb flatbread and some fondue action.
Yeah, I didn't love the Truffle Fondue. Actually, I didn't like it. At all. But I do think the Kashkaval Bulgarian cheese one or even the Cheddar and Cider would be much better. I mean, it would have to be. A kick in the face with a muddy boot would be better. Ok, I'm exaggerating. Just ignore me, I'm off my meds.
852 9th Ave
New York, NY 10019 b/t 56th St & 55th St
Hell's Kitchen, Midtown West
    (212) 245-1758