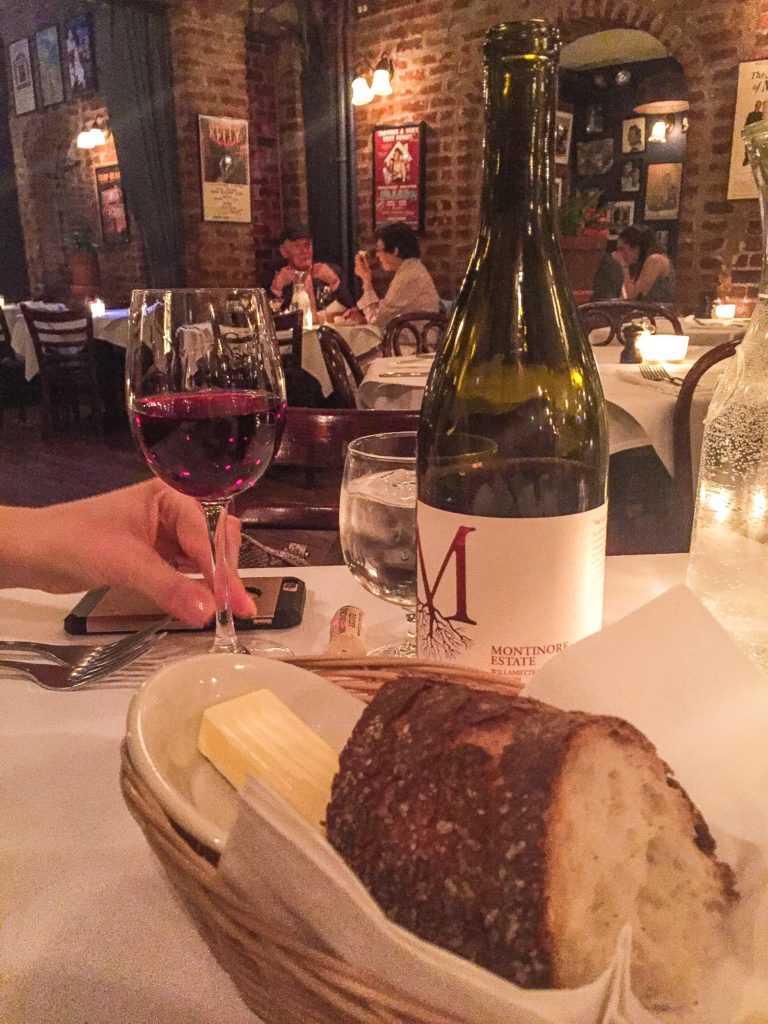 As much as I'm trying to get out of the habit of using the obnoxious and omnipresent "AF", the menu at Joe Allen can be described in no other way but as Random AF.
They serve escargot and chicken wings and some thai stew and a lobster roll and Monday is their Mexican night! What??
Joe Allen has been around since 1965 and seems intent on having a little something for the pickiest tourist. Because that's all who's going there. Tourists before or after a show, who might want a taco and escargot and if they can't get both dishes at the same place, to Yelp they shall go!
While the food at Joe Allen is intensely uninspired, it wasn't bad. In fact, my meatloaf (which NEVER cooled down, btw) and mashed potatoes were quite tasty!
As was the beet salad, thanks to the crunchy granola situation added to the mix.
And the bread basket was solid.
The place is homey, with a touch of classic, old school, dark wood/exposed brick New York with a smattering of slightly trashy diner vibe mixed to help make the underdressed jorts wearing Minnesotan feel at home before he rushes off to see Jersey Boys.
When it came to the wine, our server clearly instructed us that "We open the bottle but you guys are in charge of pouring" so we knew the quality of service might not blow us away. But everyone was friendly and attentive, so no over all complaints besides the 8 passive aggressive ones I've already made.
326 W 46th St
New York, NY 10036
b/t 9th Ave & 8th Ave
Theater District, Hell's Kitchen, Midtown West
(212) 581-6464
joeallenrestaurant.com