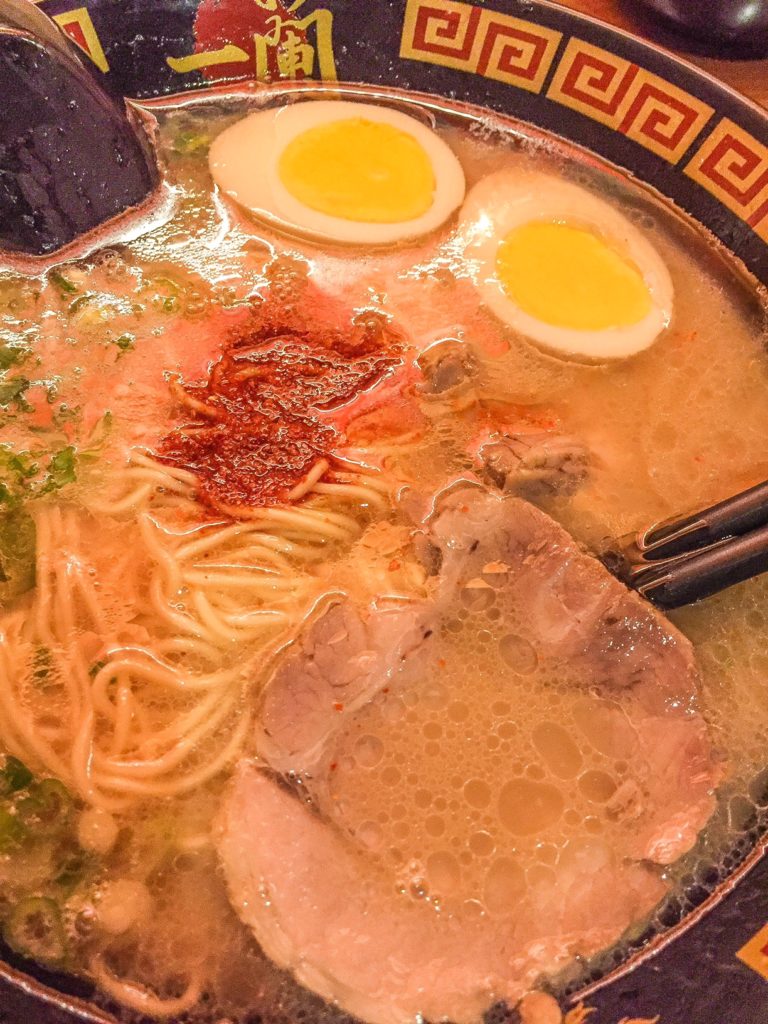 Ichiran is, for now, the best bowl of ramen I've ever had.
At around $20 a bowl, it's also the most expensive bowl of ramen I've ever had.
BUT SO WORTH IT.
The overall experience is a bit frantic, however.
There was a little line outside to get in but you can spend this time admiring the Freddy Krueger red and white color scheme.
Once inside we were handed our order forms where we could customize your ramen from the doneness of the noodles to the richness of the broth.
I was hungry but not starving so I didn't order a second helping of the noodles (which has to be done ahead of time and no matter where you turn, you are visually reminded that ordering extra noodles (called Kae-Dama) is an option).
The seating situation is unique as it is meant to cater to the individual diner and each counter seat is divided by a partition but the hostess will still seat you next to your party and it's still easy to converse.
Once ordered, your food and drink will be slid under a partition in a similar fashion to what I imagine how a low-security prison in Tokyo would serve their inmates.
After you enjoy your insanely flavorful and utterly perfect bowl of ramen, you will receive this odd little tray which must have some kind of James Bond microchip imbedded inside, which you will bring up front to pay your bill.
HELPFUL HINT: The Tonkotsu Egg is sort of a letdown. It's just a regular hard-boiled egg and not really the yummy, ooey, seasoned egg you might be used to.
132 W 31st St
New York, NY 10001 b/t Fashion Ave & Penn Plz
Midtown West