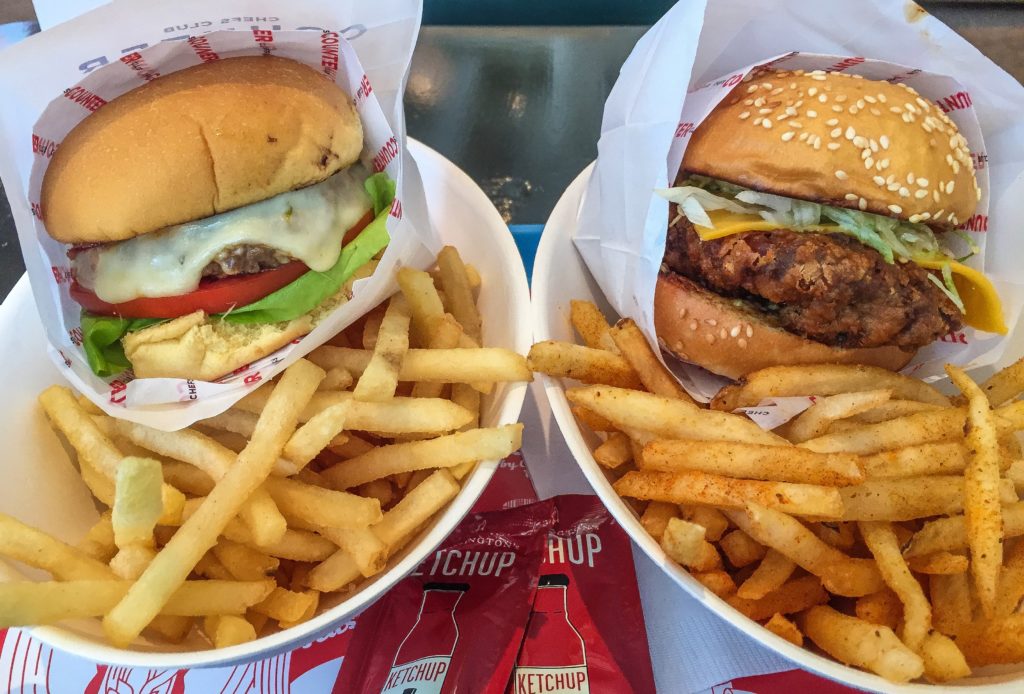 You know when you're at a BBQ at someone's house and you see the spread of burger fixings, and you put a little of everything on your burger?
Whether you prefer your burger like that or not??
Well, I do. I'm a sheep.
I think all of humanity can pretty much agree that a big slice of tomato will ruin a burger. Do question.
The Jean Georges burger at Chef's Club Counter is that burger. It's a really good burger ruined by too many classic burger condiments.
There is a new trend of super simple cheeseburgers out there that Chef's Club is not paying attention to. Or is Jean George to blame? Not really sure how it works.
You see, there is a rotating lineup of famous/celebrity chef's who are entrusted to create some sort of upscale yet fast casual entrée, such as a fancy toast, some type of burger or sandwich and some type of bowl. It's open for dinner but the fare is more breakfast or lunch inclined.
The idea is a great one (everyone went nuts when LA's famous Egg Slut had their residency, selling their amazing breakfast sandwiches) but the execution didn't really excite me.
The burger was really good, mind you, even with that tomato madness, but it just wasn't very inspired.
And the Hot Chicken Sandwich was just odd tasting and a bit dry. I wanted more sauce action and more heat on the actual chicken.
The fries were good but standard.
The prices are decent for Soho but not cheap enough to make this your regular lunch time spot.
It's sort of a confusing set up inside. You don't really know what the hell to do when you enter. Hint: you order first and then find a seat. However, the menu descriptions are quite vague, even esoteric so if you're just a tourist popping in for a quick bite, you won't know what many of the menu items even are and you'll leave (I saw this happen twice).
I really didn't mean for this to come off like a super negative review but apparently that's where it landed. I have no control over these things, folks.
62 Spring St
New York, NY 10012
b/t Mulberry St & Lafayette St
SoHo
(646) 438-9172
chefsclubcounter.com