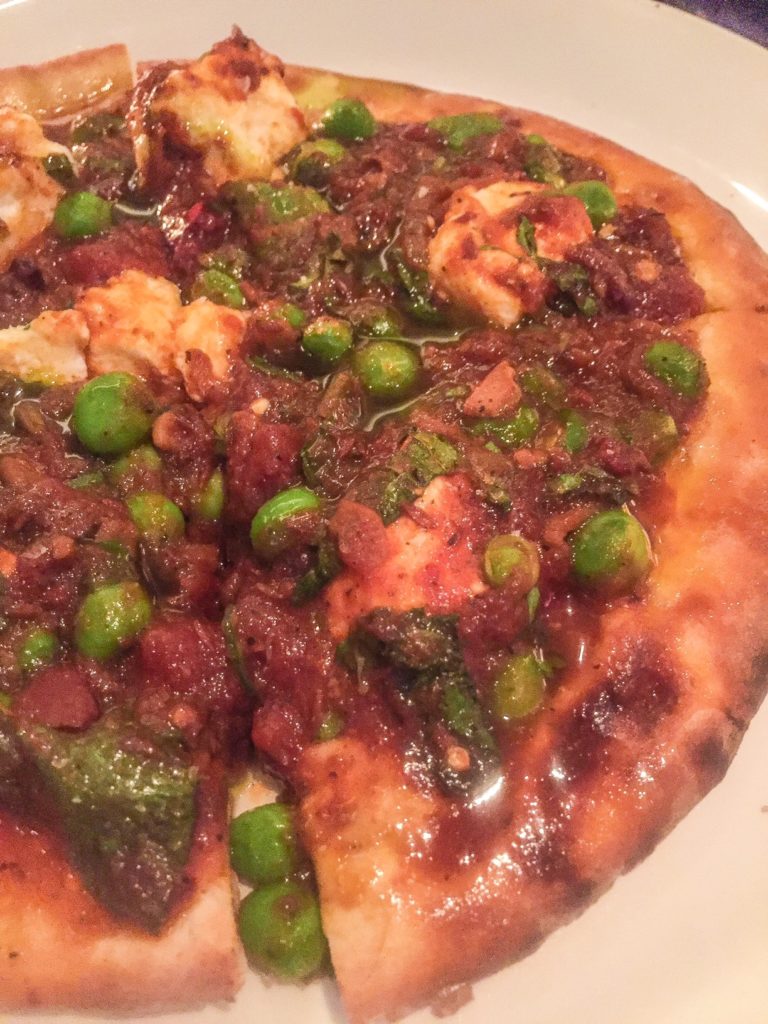 Peas on a pizza???
Yes. Peas on a pizza.
If you're a pea-hating Peacist like some folks I know, the photo above might seem like it was ripped from your darkest nightmares.
But it was probably the best thing we ate at the new trendy Indian fusion spot Bombay Bread Bar.
While we did end up trying two types of bread (at the insistence of the restaurant's namesake), they were just ok and for some reason appeared to be shredded as if by an angry feline which made it quite difficult to eat with other foods.
The chutneys were just ok but they really didn't have a part to play in the tale of our dinner. We tried to eat them with the bread but they were so strong and we didn't order any meats to go with them. But maybe that's our bad.
What you really need to be ordering is the Beat Walnut Raita. A menu item that may be shocking to an Indian food purist (who may also be that pea-hating Peacist we were talking about above) but it was quite delicious and that guy just needs to shut the H up.
Other highlights were the Dal Burrata and the Goan Crab Cakes (order them both!) but the lamb Haleem curry (odd pureed texture) and the apple potato chat were simultaneously odd and bland.
The cocktail flavors were fairly benign but boozy enough where you won't accidentally gulp them down in a few sips like your thirsty self does at some places that serve drinks in those infuriating prohibition era glasses that look diminutive even in a doll's hand.
A spooky, possessed Victorian doll with tiny cracked porcelain hands who wants to steal your soul but also enjoys a good cocktail from time to time.
195 Spring St
New York, NY 10012 b/t Thompson St & Sullivan St
South Village       
(212) 235-1098